The UVic School Based Weather Station Network. funds and  operates this Davis instrument weather station at Race Rocks in partnership with Lester B. Pearson College of the Pacfic. .For Large Sized graphs refer to http://www.victoriaweather.ca/station.php?id=72&type=month&size=large&simple=0

Units: Kilometers per hour. This wind direction is taken at ground level. There is often a 10 knot difference between ground and tower values.  Updated every 30 minutes.
Renew your browser frequently for updates,
Atmospheric Pressure/ Barometer at Race Rocks
Barometric Pressure as an Abiotic Factor

We have also provided our weather station output to the UVic School Based Weather Station Network. Some of the graphs have been derived from their analysis.
Link to Humidity as an Abiotic Factor at Race Rocks
Dew Point at Race Rocks
Rainfall for Today and past records at Race Rocks
Rainfall as An Abiotic Factor at Race Rocks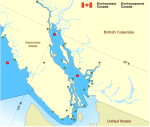 For conditions right now from Environment Canada use this link