Weather
Visibility: 15+ miles
Wind: 5-10 knots SE, later up to 15 W
Sky: clear
Water: rippled
Ecological
Spent over an hour searching for Black Oystercatcher nests for the new webcam to focus on, yet I found nothing.
Found one abandoned Canada Goose nest, confirming yesterday's suspicions.
The elephant seals continued their moulting, play-fighting, and ramp bathing.
About 9 on Great Race today, and 6 on Middle Rock.
Check out the e-seals in their flight squadron formation!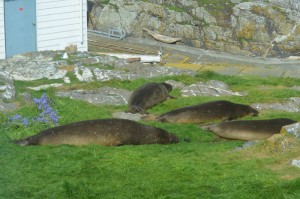 Maintenance
More Canada Goose themed maintenance.
It is mutually unfortunate that they choose to nest so close to key areas.
Boats
Observed three eco-tours lined up to the north of the reserve. I suspect they had found whales?
Later they made their way through the reserve in customary fashion.
One dive boat was anchored just south of the South Rocks for a few hours.
Spied a funny looking barge with heavy duty vehicles on it. They looked like toys from my distance!
The Queen of Cumberland (BC Ferries) was out near Esquimalt, presumably doing some test runs, as she is currently undergoing a refit until April 21.
Other
5 DND blasts today at Bentinck Island.
2 medium blasts around 11:00.
3 smaller ones between 13:30 and 14:00.