Weather
We had for a few days the last perfect Summer days: no wind ,mirror sea and heat…
Ecological
For the first time we saw 2 orcas in the passage . It was like a dream and ironically all the watching boats were outside and we were the only ones to enjoy.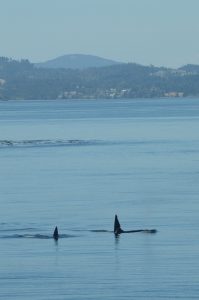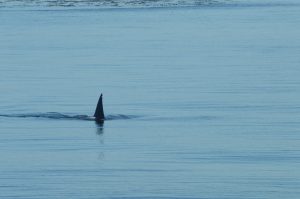 We did!
Hungry not anymore baby gulls! No Elephant seals .
Other
The number of watching boats this sunny days is insane !So many and all at the same time .too closed ,too fast and too noisy (engines). too often disturbing! An helicopter was above very noisy too and the birds were afraid.We had a plane above.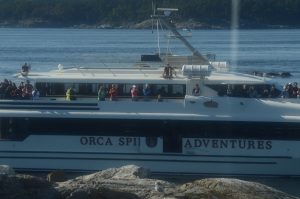 A visitor : an electrician 
He came to double check the electrical system on the rock. Even if the old system is running pretty well a brand new generator would be  a good solution for more efficiency.We learn a few things : The generator should work around 12 hours in a raw every 10 days even in Summer time. We would need a high voltage for 12 hours to activate correctly the mixture . The sulfuric acid  stays down and the water up and that means corrosion …If high voltage were sent for 12 hours or even more the batteries could be charged at 80 %. Right now they are charged at the best to 40-50%.The solar panels are not enough efficient because of the big and numerous batteries. Even the shadow of a pipe on the panel have an incidence on the production. The second generator is not working right now . We will make it work next week with new filters.this one produce 25AMPS instead of just 15AMPS for the first one in use presently.