Weather
Calm day with a west wind 5 knots,overcast,cold:2.1 degrees Celsius. The wind picked up in the evening and reached 40 knots around midnight.
Ecological 
We put back to the sea the dead pup. Guy used the crane . One student help,ready to cut the line ( It was not necessary)and the others watched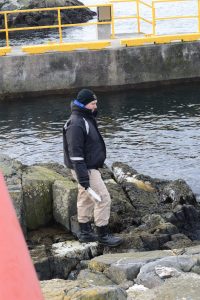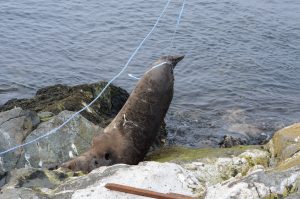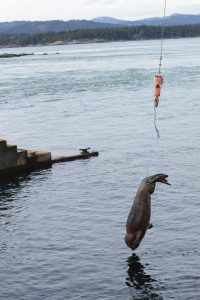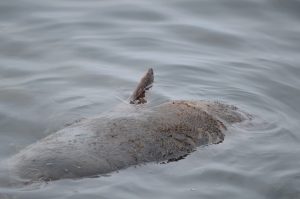 It is amazing to see how big in only one month this elephant seal pup became!
Census
The census was done with the students
Gulls:134
Harbour seals:37
Steller's Sea lions : 21
Californian Sea lions:92
Cormorants: 64
geese:5
Elephant seals:3 – 1 adult male , 1 pup , another one on Middle island but which one ?
Oystercatchers :6
Harlequin Ducks :24
Black Turnstones:10
Pigeons -Guillemot:0
Eagles :4
Maintenance
200 liters of oil transferred in the eco guardians house
Vessels
2 Canadian navy boats no 706 and 710 making their way slowly towards Esquimalt at 6:00PM
Other
Guy made a tour with some students and explain all the process for the stockage of energy and desalination of the water.