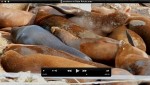 From 2011 on, all Race Rocks videos are now available under this link to posts:
 Archived Video Below
Note: Some of these videos are in Quicktime Format which now is not accessible with some browsers.  Now we find out that the new operating system for Apple Macs now only accepts .mp4 s so I am now in the process of converting all the old .movs…..It will take a while.. If there is a particular video you wish to see and it is not updated, let us know and we will expedite it!!