Weather
Visibility: 15 miles
Wind: 25-30 knots West
As I write this at 20:00 the wind has picked up to 35 knots
Sky: cloudy, now raining
Water: 4′ chop and whitecaps
Gale warning in effect until tomorrow.
Ecological
15 elephant seals on Great Race today.
Maintenance
Some goose work this morning.
Boats
Saw the HMCS Winnipeg out in the straight.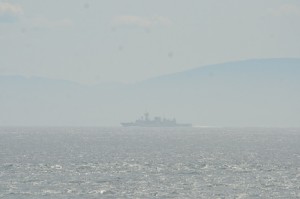 Other
Got a phone call today from Pearson College indicating that CBC All Points West was interested in interviewing me about my experience following Leicester's Premier League win at a lighthouse on an island.
They found out about me from a comment I had on The Guardian's live blog.
Anticipating a possible phone call from CBC Radio, I spent all afternoon near the phone, but nothing happened.