The weather this week has shifted to predominantly W and SW with a few nights of winds over 40 NMPH. There have been some big swells rolling in several days this week.  This morning there is a 30 NMPH NE wind blowing 4 foot waves into the jetty but it is forecast to swing back to west this evening. The west wind has brought much warmer temperatures than the previous week.
There has been ongoing military blasting on Bentinck Island this week with some particularly heavy blasts occurring Monday. The images above were captured from video taken on Monday.



There has also been regular navy activity in the Straight including a submarine that passed by on the 14th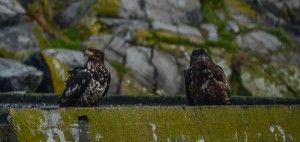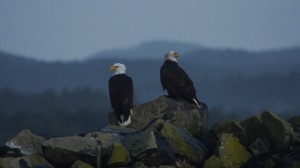 There have been lots of Bald Eagles in the reserve lately, they have been feeding regularly on the dead sealion in the East bay.
The pup has been much more adventurous lately. He has been moving around the island and has shown an interest in muddy puddles which he seems to have some trouble getting himself out of as he is slippery, still quite chubby and building his strength. Chunk went off island yesterday evening and is back today. He mostly ignores the pup but has occasionally pursued the pup, putting his head and mouth on the pup but without causing harm. The pup squawks and moves away and that seeems to be the end of it.
Went off island on Wednesday afternoon for supplies. On Friday I picked up four guests from Pearson College and brought them to the island for the weekend.
-finished replacing bad drain pipes in main house basement, clean up
-picked up backup Honda water pump and other supplies from College
-cleaning and fixing up assist house, added shelf for VHF regulated power supply box
-have been in touch with faculty regarding planning for a student group to RR for Project Week
-communications with inverter mechanic and about wood stove
-cut, chopped, stacked fire wood