I have missed a few days of logs; I was off the island Jan 22-26th. The day after I returned a inverter quit and we lost power to the main house, the internet connection was also interrupted a few days… we are now mostly moved in to the other house and are running ok with only 2 inverters on the island. Planning on having the bad inverter removed on Monday and shipped to Vancouver for servicing. We can still get power there by flipping transfer switch load 1 to "generator" while the generator is running
The weather has been very nice the last two days, sunny and relatively light wind. This house has more south facing exposure and is a bit smaller, it really warms up on a sunny day. We had quite a bit of rain earlier in the week and several days of patchy fog last weekend and early this week. Wind only got up to around 30 knots one evening mid-week.
The pup has really put on weight and is quite the squawker, often right outside the bedroom window… in the middle of the night. Chunk and Bertha are mating. He is quite persistent and she seems quite resistant but she wont leave her pup alone yet. This morning there was blood around her bad eye and it was swollen.
There has been ongoing blasting at Rocky Point this week, every day up to the weekend. One time several blasts were in short succession, sometimes there were flares too. The photo below was taken after one very heavy blast, the sealions all had their heads up right after and seemed alarmed.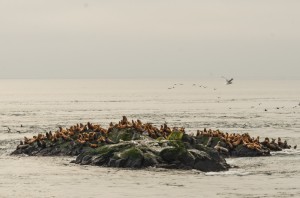 Traffic in reserve:
Sunday Jan 26: I returned in the afternoon on the station whaler.
Monday Jan 27: 1 private, 1 ecotour, helicopter overhead, several navy ships doing exercises nearby in the straight.
Saturday Feb 1: 1 diveboat, 3 ecotour.
Work:
-troubleshooting inverter
-troubleshooting internet
-moving supplies over to other house, switching fridges, etc
-communicating with inverter repair person in vancovuer
-communicating with electrician for inverter removal
-removed 25 ft of 2″ clogged drain pipe from main house, cleaned pipes with rain water
-got crate for 2′ long inverter
-started month end inventory/report
-cut, chopped, stacked fire wood
-cleaned panels as needed
-picked up pipe and hardware for replacing sink drain pipe
-topping up batteries
-picked up parts for repairs on station whaler