Julien and I went out to the island to go over the various mechanical and recording systems on the island with Alex for the purpose of possibly  developing  an improved electronic data-logging system.
Many large blasts were noted throughout the morning  from the DND ordinance disposal pit on Rocky Point. Gulls on South west corner were dispersed on one of the blasts.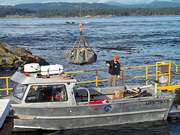 Material to be sent back for recycling was loaded by winch on the boat and Erik and Jake brought us back to the college. They picked us up in the afternoon bringing back the station whaler having undergone repairs over the last few weeks. Erik drove Julien and I in a rather rough return ride in the rigid hull inflatable which has been the substitute boat at the island.
Jake stayed out with Alex to work on the refitting of angle brackets on the solar panels on the roof of the energy building over the next few days. These are intended to increase efficiency by giving more of an angled tilt to the south.
Camera 1 panorama picture was redone to give better ability to click on the panorama image for control of camera.
I noted that a dozen or more of the introduced (non-migratory) strain of Canada geese still persist on the island. Their grazing in the area of the first nations burial cairns remains to be a problem as soil erosion is obvious. I have suggested that we might put up several netted enclosures to document the impact of their grazing.
5 dead immature glaucous -winged gulls were noted on various parts of the island, A full count is pending. This is probably from normal; fall mortality of new birds. On top of the south rocks today, 100 cormorants, probably double  crested lined the ridge.

Garry Fletcher- ecological reserve warden