Currently there are three cameras webcasting live 24 hours a day at Race Rocks Ecological Reserve in the Eastern entrance to the Strait of Juan de Fuca. We are in the Pacific Time zone at 48 degrees North latitude so day-length will vary with the seasons. In order to allow a maximum number of viewers to access the cameras, please exit the page as soon as  you are finished viewing.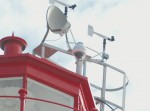 Camera 1 is a remote controlled camera situated at the top of the lighthouse tower.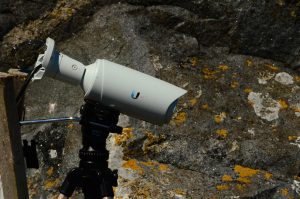 Camera 3 is located near a Glaucous winged gull nest on Race Rocks. It is also equipped with night vision

Camera 5 is a remote controlled camera situated on the north side of the  Island of Great Race Rocks.
PLEASE NOTE:  IN ORDER TO ENSURE THAT ADEQUATE BANDWIDTH IS AVAILABLE TO OPERATE Cameras 1 and 5, PLEASE DO NOT LEAVE THE CAMERAS RUNNING IN THE BACKGROUND ON YOUR COMPUTER UNLESS YOU ARE ACTIVELY ENGAGED IN VIEWING THEM.
Exposure  to the elements means that all cameras will from time to time be fouled. We  make an effort to keep them clean, however the underwater one requires a dive every week in the summer to keep the brownish diatoms from growing on the housing.
We have limited band-wave as we have to send the signal from the island by microwave, Occasionally you may get a message that the camera is busy, meaning that the maximum number of people are viewing… Just keep checking every few minutes in order to get on. Be sure to visit the Flickr pages of Pam Birley of the U.K. for almost daily photos from these remote controlled cameras.
http://www.flickr.com/photos/66339356@N00/sets/72157632533500094/page3/