Sorry for the log neglect the past few days. I have been off island a bit and adjusting to a new computer, here is a quick update:
Saturday we were again unable to get off the island due to the weather but made it off Sunday to drop off Jake and stock up on food.  Jake was out for 6 days (had planned on 3) and was good company and a great help while he was here with the solar tilt installation, lots of clean up and putting his carpentry skills to work building shelving and storage space. Thanks Jake!
Yesterday the weather was good (t-shirt) and sea was calm so I made a quick trip off island again to get plumbing parts for a rainwater capture system.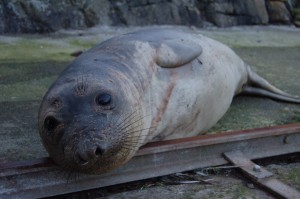 On my return there was a female elephant seal hauled out near the jetty. She seems quite small and not afraid of me at all.  She was quite stubborn about clearing the rail to let the boat back into the boat house.