Today was a transition day with the wind not doing much, but shifting from west-southwest to west and the barometer slowly rising. There were both clouds and low marine air but it did not really rain. The high humidity made it really easy to wash the solar panels this morning and this evening I see hope for a beautiful sunset as it clears to the west. There may be fog in the morning tomorrow but the forecast is for clearing, sunshine and strong westerlies by noon.
Only two whale-watching boats were noted in the reserve today. There was no illegal fishing observed although two boats were speeding in the reserve which has a 7 knot speed limit within 400m of the rocks. Both speeders were sports fishers, one a rental boat from Oak Bay Marine Group 14K40098 and one a commercial charter boat called Cool Change of No Limit Charters 13K1116940.
I managed to photograph a few new (to me), branded sea lions today and got a few more shots with sea lions in the foreground and ships in the background. The Strait of Juan de Fuca is an incredibly busy shipping conduit. I also spent some time organizing data and photographs, a large job that I need to spend more time on. Routine maintenance, cleaning and fighting entropy filled the rest of the day.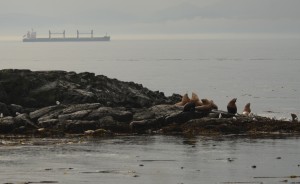 There were no visitors today. I would post a sunset photo but it is giving me error messages. As the sun goes down it is beautiful aloft with mauves and crimsons defining perspective on the bottom of the clouds. It is very mysterious looking at water level with a thick fog coming in from the open ocean. The west wind is blowing 17 knots so it will soon be here.