It was another northeast day, with really not much happening weather wise. It blew NE about ten knots, was mostly overcast in the morning, with some sun in the afternoon. The barometer rose gradually all morning and then started to slowly slide after noon. It is expected that tomorrow's southeast will bring rain, starting late tonight.
The whale watching boats were busy in the afternoon with Humpback Whales to the southeast of Race Rocks and more activity out to the west. A total of eight tour boats were seen in the Ecological Reserve.
Today was mega-fauna census day and these are the results:
Steller Sealion 298
California Sealion 508
Harbour Seal 79
Northern Elephant Seal 9
River Otter 2
Canada Goose 22
Greater White-fronted Goose 1
Harlequin Duck 5
Double-crested Cormorant 61
Pelagic Cormorant 15
Black Turnstone 9
Surfbird 5
Black Oystercatcher 38
Glaucous-winged Gull 145
Thayer's Gull 1482
California Gull 3
Western Gull 7
Heermann's Gull 35
Gull sp. 52
Common Murre 1
Common Raven 2
Fox Sparrow 2
Savannah Sparrow 15
Here are a couple of shots of Surfbirds, alone and with Black Turnstones.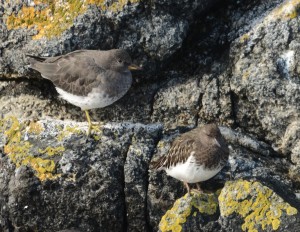 The census was challenging due to the numbers and species of gulls and the fact that both Steller Sealion and Harbour Seal numbers were lower than expected during the morning count, so they were re-counted in the early evening. I generally like to count Harbour Seals on the morning low tide but the tide wasn't really doing much today. The evening counts were higher for both the Steller and the Harbour Seals. Two new Elephant Seals arrived today. They are both moulting, the smaller one hung out with the dual tagged three year-old, which appears to be staying on. The bigger animals may have gone back to Middle Rock as there were still six animals visible there.
Ring-necked animals as well as tagged and branded animals were also re-surveyed today. I am still working on the branding data from a month ago. Two of the ring-necked Steller Sealions that have been observed since August are still here and languishing as the plastic straps cut into the backs of their necks. I am putting out an appeal to the disentanglement crew again.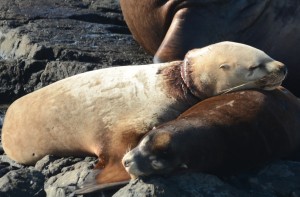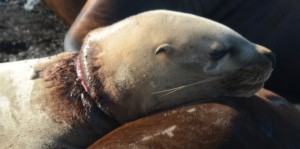 The second ring-necked animal 'highlighted' here is also branded on its' left side 946R. I believe that it was branded at its' natal colony which from the R should be Rogue Reef in southern Oregon. From the number it was branded after 2009 but I will find out more.
Did not do much maintenance today other than the basic cleaning, making water with the desalinator and electricity with the generator.