Weather
Visibility: 15 miles
Wind: 15 knots West most of the day, 30-40 in the evening.
Sky: clear
Water: 2′ chop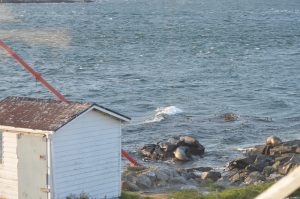 Ecological
This morning there was a new large male elephant seal on Great Race.
He is far larger than any of the other ones here.
Then in the evening Chunk arrived on the Western part of the island, equalling the new male in size.
Chunk was last reported as being on Great Race on March 4th of this year.
Chuckles was last sighted on Great Race on February 29th of this year.
I don't think the other one is Chuckles, as I remember Chuckles being smaller.
15 in total on Great Race.
Lots of entertaining e-seal sparring and interactions, much to the delight of the students.
Maintenance
In the morning, the 4 of us finished uncovering the brick feature under the flywheel.
We also cleaned the algae off of the flywheel and cleaned the solar panels.
In the afternoon we scraped paint chips off the white railings near the derrick.
Did the old water sampling method, as the YSI wasn't turning on.
Boats
Lots of eco-tours today.
Most of them appeared to go too close to the sea lions.
Several sailboats out on the water; beautiful!
Other
Approximately 10 DND blasts today at the more easterly detonation station on Bentinck.
This included blasts at 9:30, 9:40, 10:00, 12:48, 12:49, & 12:51.
The initial blast scared several sea lions into the water.
By my personalized scale, the first five were medium blasts, the final five were huge.
For those of you wondering, my scale goes something like this: small, medium, big, huge, massive.