Weather
Visibility: 15+ miles (Mt. Baker clearly visible!)
Wind: 15-20 NW in the morning, then down to 5 SE.
Sky: clear
Water: 1′ chop
Storm warning for Wednesday night thru to Sunday.
Expecting winds of over 40 knots and as much as 8″ of rainfall.
Ecological
The sea lions have been mostly absent from the NE part of the island for a few days now.
This makes sleeping much easier.
The 6 elephant seals were in the middle of the island today.
Heard the winter wren somewhere in the lantern room, but could not see it.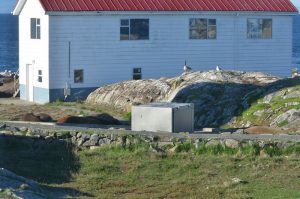 Maintenance
Finally able to fix the electric fence near the generator with the elephant seals elsewhere.
Ran the desalinator in the afternoon.
Put the new end piece onto the salt water hose.
Took note of what needs to be dealt with before the storm.
Cleaned the student house windows as best I could.
Swept the main floor of said house in preparation for tomorrow's Advancement Team meeting.
Boats