There was a big blow last night and I learned that this house can whistle; with three distinct tones, synchronously, very musical. This morning there was a swell from the southeaster and an even bigger groundswell coming in from open sea to the west. Add the tidal race to the mix and you can imagine that the wave patterns created were mesmerizing.
It seemed like the day was in recovery from the storm, with gentle winds from the north-northeast, light rain and overcast. The pattern of barometric pressure change was not so reassuring, falling since noon it is now back below 998 hPa. That is where it was for last night's big blow. It looks like the forecast is for more of the same.
There were six whale-watching boats observed in the Ecological Reserve today; five Canadian and the almost daily visitor from Port Angeles, called Island Explorer. The big draw, other than Race Rocks itself, were abundant Humpback Whales in the area. It certainly wasn't the weather. At least two of the Humpback Whales were in the Ecological Reserve .
There were four Elephant Seals on the marine railway today, Gat (#5850-6967) , Flake and two larger animals. They 'played' together and then slept together for most of the day. More sealions than have hauled out since about a week ago, were also sleeping soundly throughout the day today, perhaps recovering from last night.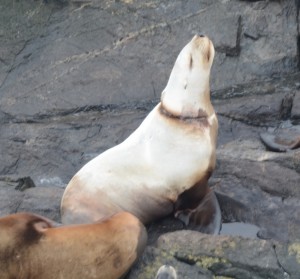 The three entangled Stellers sealions that are proposed candidates for disentanglement were all attending, two of them hauling out close to the living-room window of the science house.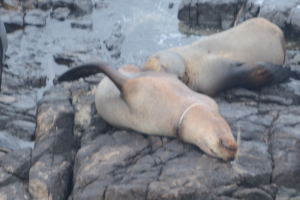 When I was doing the seawater sample I noticed a couple of Harlequin Ducks foraging on the north side of the island. I would like to see them on the underwater camera.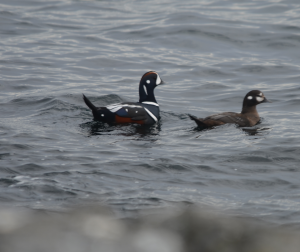 More shorebirds were observed foraging on the abandoned sealion haul-out today; Dunlin, Western Sandpipers and Sanderlings were foraging with the Black Turnstones. The smaller birds were kneading the substrate with their feet and probing. That area is completely covered in a mat of sealion hair from their moult.

Even though it was a dark and gloomy day, the solar panels managed to keep up with operational, electrical use. The generator is just cooling now after topping up the batteries for the night.