Weather
Visibility: 15 miles
Wind: 5-10 knots North East, then from 15:00 onwards 15-25 knots West
Sky: mostly overcast
Water: rippled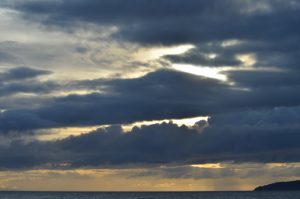 Ecological
Census day!
This morning at about 7:00 I spied the Otter wandering along the wooden deck.
Later in the early evening I spied him again and got two photos!
Saw one branded California Sea Lion: X[?]60
Watched fascinated as two crows boldly flew up to two eagles and scampered about next to them!
Saw some seagulls muck about in a goose nest. I think they were eating the eggs.
Harbour Seals: 70
California Sea Lions: 70
Steller (Northern) Sea Lions: 53
Elephant Seals: 9 (2 on Great Race, 7 on Middle Rock)
River Otter: 1
Seagulls unspecified: 172
Pigeon Guillemots: 138
Surfbirds: 88
Cormorants unspecified: 49 (all on Middle Rocks)
Canada Geese: 19
Black Turnstones: 14
Harlequin Ducks: 9 (5 males and 4 females)
Black Oystercatchers: 6
Bald Eagles: 2 (2 adults, 0 immature)
Savannah Sparrow: 2
Crows: 2
Maintenance
Lots of intense goose work.
Pumped one 55 gallon barrel of diesel into the tidy tank.
Boats
A couple of eco-tours came by, as well as pleasure craft.
In the late morning, several kayakers entered the reserve.
Most of them stayed over by the North Rocks, but a few wandered down to South Rocks.
Some of them had difficulty dealing with the strong ebb tidal current, and had to renegotiate their route to rejoin the others.
Stay safe out there!