Weather
Visibility: 15 miles
Wind: 0-5 knots South West.
In the early afternoon, 15-20 knots North East.
In the evening, 5-10 knots South East.
Sky: clear and sunny most of the day.
Water: calm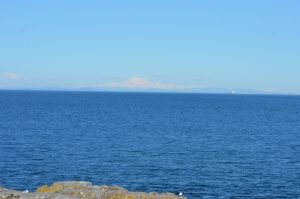 Ecological
The weaner returned for what I believe to be the first time since April 10th.
She(?) spent the whole day snoozing on the ramp beside the jetty.
One elephant seal went over to join the lonely muddy e-seal on the west side of the island.
This made for a total of three elephant seals on Great Race today.
There were six elephant seals on Middle Rock.
I only saw one Short-billed Dowitcher today.
Maintenance
Did some goose work.
Hand pumped some diesel.