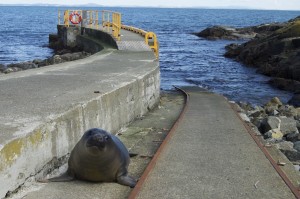 This morning was the first time that I have seen Squall take to the sea.  While i didn't actually seen her in the water I saw her coming up the boat ramp clearly wet after having been in the water.   It may be that she has gone in the ocean previously at night or when I wasn't around but this is the first time I have even seen her near the boat ramp, which, with its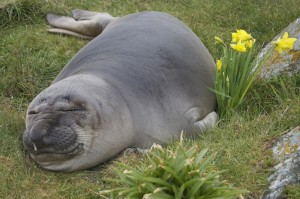 gentle smooth slope, is the preferred haul out for elephant seals on the island.  Maybe it is just a coincidence but this morning we also reached the highest barometric pressure (115 hPa) that we have had in almost 2 weeks. She will be 10 weeks old tomorrow.
The female elephant seal tagged 5086/4665 left the boat ramp area on Tuesday.  6355 is still in the south bay.
On Monday Erik brought out 3 students to the island who stayed overnight and returned the following day.  Today a group of 9 will be coming out the island for the weekend.