Weather was happening all around Race Rocks today but it was pretty nice here. There was a significant swell, which is nice to watch, unless you want to launch a boat. Across the Strait, on the American side, it was really pouring on the Olympic Peninsula especially in the Elwah Valley. Here, clouds came and went, it rained a little, it shone a bit and the barometer was actually up and steady after yesterday's low. Forecast is for more of the same.
There were only two whale-watching boats observed in the Ecological Reserve today and one was a "new" catamaran vessel that I have not seen before, called "4-Ever Wild".
Juan de Fuca Warrior spent the day with a crew diving in the Ecological Reserve most of the day again today. I forgot to mention that yesterday there were three happy kayakers enjoying a paddle in the Ecological Reserve and unwittingly getting a little too close to the sealions.
Some of the photos of sealions taken from the tower actually show Elephant Seals too. Can you spot the Elephant Seals in these two photos?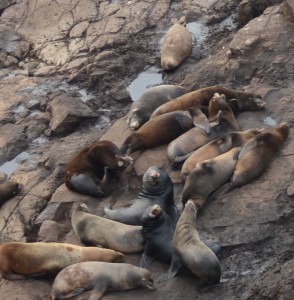 I spent quite a bit of time troubleshooting web-cams, "watertight boxes", power and ethernet lines, not very successfully, but maybe tomorrow. I changed both of the cartridge filters on the desalinator today. I worked on further organization of the brand, tag and entanglement data for both species of sealion and got some new photos of brands.