By Edward Hill – Goldstream News Gazette
Published: June 11, 2010 2:00 PM
Updated: June 11, 2010 4:21 PM
For sale: one 150-year-old lighthouse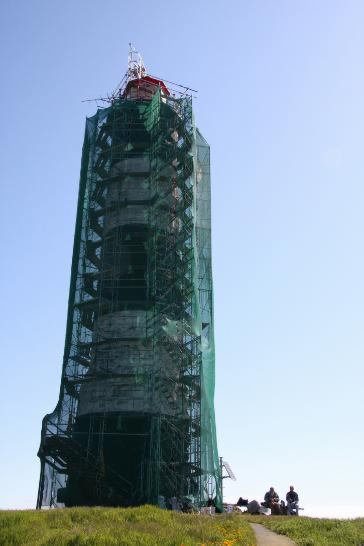 As the iconic and protected Fisgard Lighthouse celebrates its 150th anniversary this weekend, its isolated twin on Race Rocks faces an uncertain future.
The Department of Fisheries and Oceans quietly announced in May that 480 active lighthouses, including Race Rocks, are surplus and will be sold.
For the next two years, lighthouses on both coasts will be offloaded to any person, non-profit or municipality for purchase as a tourist or heritage attraction, in return for taking responsibility for upkeep.
Interested groups must apply to Parks Canada for heritage designation, present a business case and prove they can manage such a site. The Coast Guard would keep possession of any navigation aids in collaboration with the new property owner.
Nelson Kahlil, DFO communications manger in Ottawa, said any lighthouse not snapped up by the public will remain in the DFO inventory of real estate. It's difficult to speculate what would happen to unsold surplus lighthouses after the two year sale period, he said.
"For now (the lighthouses) would remain in DFO possession. It is hard to say what would transpire. It would be on a case-by-case basis" Kahlil said.
Race Rocks 150-year-old lighthouse had a facelift and paint job last year. The colonial-era stone building is on the list of surplus properties the federal government wants to sell.
Amy Dove/News staff
The Coast Guard has deemed that maintaining 480 lighthouses as beyond its budget and beyond its mandate. Kahlil said the CG's primary concern is
The 24-meter tall Race Rocks lighthouse has been guiding ships into Esquimalt Harbour s  since 1860, lighting its lantern about six weeks after Fisgard Light.
The nine Race Rocks islets are a B.C. Parks ecological reserve and a federal marine protected area of interest. Pearson College of the Pacific in Metchosin is the protector and steward of the islands.
On the main island, Great Race Rock, the college staffs the property with an "eco-guardian," who maintains and oversees research buildings and equipment. The guardian generally tries to keep boaters and kayakers away from Race Rocks and its pristine marine ecosystems, which makes its lighthouse an unlikely tourist attraction.
Race Rocks from the seabed up is under the jurisdiction of B.C. Parks, except for a small wedge of land with the lighthouse, which falls under the Coast Guard. Pearson's manager of operations Chris Blondeau said its too early to say if the college would take on responsibility for the lighthouse as a heritage site.
"Its a little more complicated than other places. A number of discussions and conversations need to happen before we know where we stand,"Blondeau said Friday. "We are concerned with preserving and protecting Race Rocks over the long term and that will continue. Whether or not we own the lighthouse is a different kettle of fish"
Race Rocks lighthouse underwent refurbishment and repainting in 2009 after years of deferred large-scale maintenance on its lantern and stone tower. The project cost DFO many tens of thousands, of dollars, Blondeau said. "I wouldn't be surprise if it broke $100,000."
Blondeau said the lighthouse is generally separate from college research projects. The automated light and foghorn system run off solar power and batteries. DFO helicopters in maintenance staff to the island about every four months.
"It's pretty hands off for them already" he said. "At this stage it's a low maintenance operation out there."
Pearson College is hosting a table at the Fisgard 150th anniversary celebration at Fort Rodd Hill on Saturday and welcomes comments and suggestions about Race Rocks lighthouse.
For more on Race Rocks, see www.racerocks.com.
For more on the list of heritage lighhouses for sale, see http://www.dfo-mpo.gc.ca/media/infocus-alaune/2010/02/index-eng.htm. (DFO link no longer available)

(All rights reserved)