Today was a transitional day that started with a spectacular sunrise of backlit clouds with lots of pinks and reds. That was a warning of things to come. It didn't blow much until just before sunset and then switched from the dithering north and northeast winds of the daytime to a steady westerly of 20 knots, gusting to over 25 knots. The rain was not far behind.
This warm blow feels and smells like a pineapple express, even above the essence of sea lion. The barometer track from last night to this one was a diagonal drop but the forecast shows some hope for sunshine tomorrow and then back to southeast.
There were ten commercial whale watching boat visits to the Ecological Reserve today and even more activity in Race Passage. There were multiple Humpback Whales in the neighbourhood again today. It was also a busy day for sports-fishing boats and people racing around in speedboats. There were several speeders in the Ecological Reserve including a young family who had rented at Pedder Bay marina.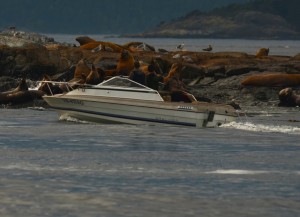 A Harbour Seal hauls out in the Jetty bay most afternoons now. It is very photogenic with its little pink tongue and great stretches. Check-out those not so cute, formidable looking nails (aka claws).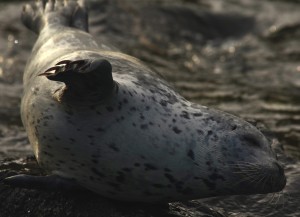 Another favorite resident here is the Black Oystercatcher.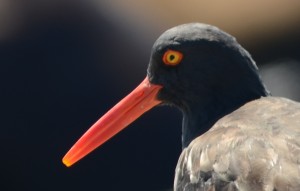 I did the usual chores today, clean-up, wash solar panels, sample seawater and run the generator for a couple of hours to top up the batteries. I tried unsuccessfully (again) to fix the wind direction input on the weather station and to get the weed-eater going.