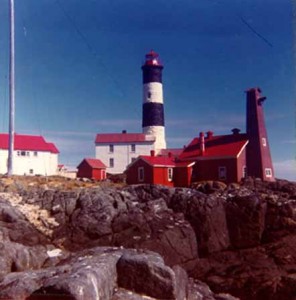 When Trev and Flo Anderson arrived at Race Rocks with their family in 1966, the old generator building was painted red and had a tall tower attached for the foghorn. By the mid-1970's when we started coming out from Pearson College, the buildings were painted white. In 1978, the last of the wooden structures of the generator room were torn down and the present square block concrete building was erected.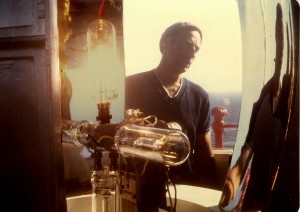 "When I first went over to Race Rocks in 1976, the light was made up of four 1000 watt bulbs, with one in the top position on at all times. When the bulb burnt out, it would automatically change positions with a new bulb. The light floated on a platform on a bath of mercury to reduce friction. Years later, Trev wonders how many light keepers were affected by the vapors given off from such mercury sources. In 1978, a beacon was installed that relied on more sophisticated electronics to send out a powerful beam . It wasn't until after the Anderson's left the station that the basin of mercury was replaced with a newer design with 8 beams. ( see lights file)
The book by Flo Anderson above is available from Harbour Publishing, P.O. Box 219 Madeira Park, B.C. V09-2H0
phone: 604-883-2730  fax: 604-883-9451 e-mail: harbour@sunshine.net  To order direct from the publisher, pre-payment is required by cheque or Credit Card. GST for purchases in Canada, postage extra, No duty or GST in purchases from the US.  Cost is $18.95(CAN)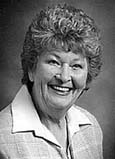 Link for this  profile of Flo Anderson:
Flo Anderson was born in Victoria, B.C. She and her husband Trevor and their four children lived at five different B.C. lighthouse stations from 1961 to 1982. In December of 1961, her family left Vancouver to start life anew at the light station on Lennard Island, near Tofino. There wasn't a furnace. She used an old wood stove for heat and cooking, collecting driftwood for burning. She didn't meet anyone else on the island for weeks. "Writing about Lennard Island was very painful for me," she told interviewer Marianne Scott, "Life was traumatic. I was so naive. Recounting it all was therapy. Lots of people have this romantic view of living at a lighthouse. That's why I wrote about it." In 1963, Trevor Anderson became senior keeper at Barrett Rock, seven miles beyond Prince Rupert. Four months later they were sent to McInnes Island in Millbanke Sound, between Prince Rupert and Vancouver Island. Fourteen months later, they were relocated to northernmost staffed lighthouse in Canada, Green Island. In July of 1966 they were transferred to the southernmost point on the Canadian Pacific, Race Rocks, where they spent 16 years. As of 1974, they spent seven years building a yacht in whatever spare time they could find. "All the wives were part-time lighthouse keepers," she has recalled. "Unpaid, of course. It was just expected. When the man was away, the wife filled the gap." Trevor Anderson took early retirement in 1982, the year they launched their 44-foot wooden ketch, WaWa the Wayward Goose, circumnavigating Vancouver Island in 1983. For thirteen years they lived about their boat, once sailing as far as the South Pacific and New Zealand. Flo and Trevor Anderson came ashore in 1995 and now live in Sidney, B.C. At age 70 she wrote Lighthouse Chronicles: Twenty Years on the B.C. Lights (Harbour Publishing), published in 1988.
[BCBW 2003]

Flo Anderson's The Lighthouse Chronicles (Harbour $18.95) explores her life as a lighthouse keeper on isolated areas of the B.C. coast. 1-55017-181-X
[BCBW WINTER 1998]