The fog was hanging like a wall to the west when we left the island early this morning and on return this evening, the fog was just wrapping around the island. Winds stayed west-southwest and were gusting over 30 knots this evening. The barometer started dropping after noon, holding steady at ~1013 hPa., up to that point. At sunset it was down to 1008 hPa. Cumulative solar energy was ~ 550 Langleys today, down from yesterday, so I am guessing there was some fog here during part of the day, as yesterday it was up at 600 Ly. The forecast for tomorrow is for more of the same, westerly winds, a strong wind warning and fog patches. The fog "patch" is a big one extending up the west coast to at least Bamfield.
On yesterday's intertidal foray, there were numerous large Hemigrapsus nudus shore crabs in a fairly high tidal pool with only one rock. This is not the 'usual' habitat where I am used to finding this species: but perhaps because of the high current they shelter in high tidal pools instead of under cobbles and boulders, a little lower in the intertidal. It is also possible that some may be another species as some of them have a very rounded instead of rectangular carapace.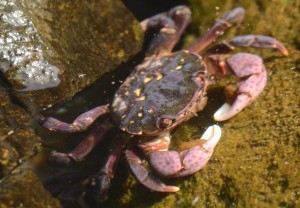 Another example of gigantism here is exhibited in the Littorina spp. or periwinkles. They are much larger than I am used to seeing and every little piece of kelp blown into the high intertidal is immediately (at a snail's pace) consumed.
The elusive Kildeer that normally arrive after dark and leave before light, came early tonight in the fog. Observations of two individuals revealed interesting interactions. One individual fanned out (her?) tail feathers held high, with head down and wings out and down, while the other individual did some serious head bobbing.
It is not known what vessels were or were not in reserve today
The student advisee group and their adults (and small child) left mid-morning today. Don arrived for a few days.
Chores were routine today.