Westerly breezes of 15 to 20 knots kept the island comfortably cool today as the sun shone steadily. The overall tendency of the barometer, was to slowly fall today ending up at 1012 hPA., as the sun set. The forecast is for continued strong westerlies and clear skies.
Twenty-one visits to Ecological Reserve by whale watching boats were observed today and there were probably more that I missed while doing other chores. Again most of the operators were great but there are a few who speed and a few who go too close. Several sport fishing boats and one rental were also seen transiting the Reserve.
The large Humpback whale affectionately known as Big Momma by the whale watchers did a complete circuit of Race Rocks today without actually entering the Reserve itself. While travelling through Race Passage she was accompanied by five to ten whale watching boats and was never alone.
Chunk and Floyd, the two large male Northern Elephant Seals spent a lot of time "fighting' in the water today and that was also draw for the whale watching boats. Chunk definitely has the advantage over Floyd both in terms of size and personality. Floyd had quite a few fresh bleeding scars this evening and Chunk was doing quite a bit of perhaps, triumphant bellowing.
The lone male, sea otter that hangs out in the Middle Channel kelp bed directly opposite the eco-guardians' house was also a draw today. The sea otter was viewed close up, by just about every vessel and he seemed completely unfazed by all the attention. Whale watching vessel congestion in the Ecological Reserve continues to be potentially problematic. Also dangerous for the little rental boats that like to follow close behind some of the bigger whale watching boats.
Gull incubation is happening right now and one of the interesting behaviours observed is thermoregulation by panting. Today there panting gulls everywhere.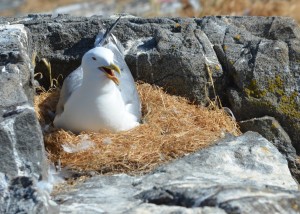 Of note, the majority of the Canada Geese have left the island after a rash of Bald Eagle attacks. They were observed practicing the swim across to Middle Island with the goslings and were gone by June 10th, leaving three pairs of adults and their 10 collective goslings.
There were no visitors today and chores were routine.