A lone osprey visited the reserve today and was photographed from the lighthouse flying SE across Great Race.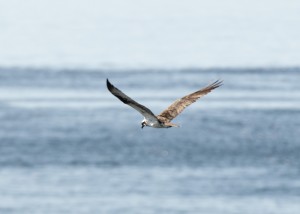 While counting marine mammals from the lighthouse I noticed the sea gulls take flight similar to a bald eagle response.  I then saw this osprey flying SE over Great Race about level with the top of the tower.  The next day I observed a pair of ospreys hunting in the shallows W of Pedder Bay Marina.
A distinctly different type of person on the water today. As of 13:30 there have been 4 Bayliner-type vessels speed through the reserve. A recreational fishing vessel serial 14K36817 has been illegally fishing the RCA for over an hour now. When hailed on VHF68 an anonymous station twice responded with profanities after which radio communications were obstructed by loud music playing over an open mic. Earlier today a call was put into Pedder Bay Marina to stop their vessels fishing and pulling kelp.
There were 200 visitors to the island today. ( Posted by Ryan)