Weather
Visibility: 15+ miles
Wind: 0-10 knots N
Sky: sunny
Water: calm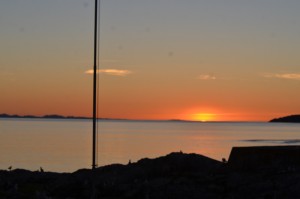 Ecological
Seagulls woke me up at 6:00, something that never happened in February.
Had an easier time shooing away the Canada Geese today.
The river otter was out exploring and rolling around. It delighted the visitors.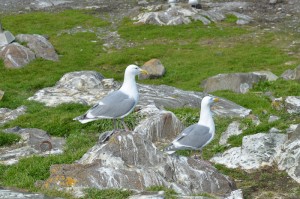 Maintenance
I helped Chris and Kyle install the new wifi "distributor" at the top of the tower.
Later I tidied up the extra cord, searched for outdoor rated Cat5 (unsuccessfully) and measured out the distance required for the future permanent cord. Twenty-five feet if you're interested!
Cleaned the solar panels.
Boats
Two eco-tours came by at around 11:00.
Second Nature docked on the jetty at 11:00 and departed at 13:00.
Visitors
Chris came by in Second Nature with Kyle (a new dock hand) and a group of three from the One50Canada project.
Their names are Martin Gregus, Martin Gregus Jr. and Elena Gregusova.
The two Martin's are trying to make the largest documented collection of photos and information about what Canada is like in the years around 2017, her 150th year of independence. The final project will include a massive coffee table book.
They were interested in all aspects of the Race Rocks Ecological Reserve.
They took photographs of and asked questions about the mammals, birds, lighthouse, other buildings, vintage Coast Guard equipment, First Nations rock formations, etc.
If you are interested in learning more about the One50Canada Society, check out their website at: http://www.one50canada.ca/index.html