Although the wind vacillated early and blew south and southeast for a while, it was another unsettled and chilly day on the rock, dominated by west winds. The barometer is rising and the outlook is for warmer temperatures and more sun as well as continuing warnings for westerly winds.
No sports fishers were observed in the Ecological Reserve today but there was whale watching traffic to the west and three boats were observed in the ER. They all slowed and drove responsibly in reserve.
I caught a glimpse of a few whale blows today but did not see clearly enough to know if it was a small Humpback Whale or a Minke Whale, one of the two. The first blow was off West Rocks and later I saw a couple of blows to the south near Rosedale Reef.
There was an interesting gull visiting today. I think it is a juvenile Herring Gull and have the word out for confirmation.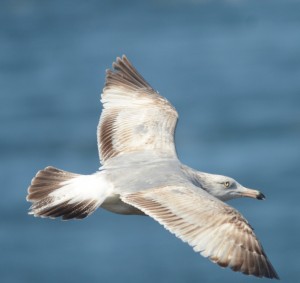 The elephant seals are starting to look a bit wane, as they visibly lose girth, their heads appear bigger and skin looser. The huddle also seems to gain importance and all but a few are skin to skin, perhaps to conserve energy due to heat loss.
There are very good low tides now and I took time to document some of the tidal pools on the west side today. Black Oystercatchers were feeding on small limpets on the southwest area.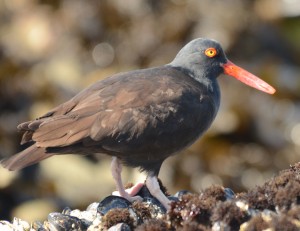 Several people have mentioned that there might be visible impact of Sea Otter predation on the abundance of large calorific marine invertebrates like sea urchins, mussels, cucumbers and large limpets. I was curious and investigated. From a qualitative point of view, there are still a lot of both Red Sea Urchins Stronglyocentrotus fransiscanus and Purple Sea Urchins, S. purpuratus in the lower pools. Not at such high densities as to exclude algal species like Sea Cabbage Saccharina sessilis (taxonomic synonym for Hedophyllum sessile) from the edges of the pools, all the better to have a local food supply.
The Orange Sea Cucumber, Cucumaria miniata, Keyhole limpet, Diadora aspera and "Dunce-cap" Limpet, Acmaea mitra were also commonly present. Although a few small patches of California Mussels, Mytilus californianus were missing here and there, that could have been from winter storm damage and there was no evidence of heavy predation.
Even eating 25% of its body weight per day, it would take one sea otter a very long time to make a difference in such a productive area. Assuming 10 kg per day it might eat ~3.65 metric tons in a year.
There were no visitors and maintenance chores were routine today.