It was another west wind kind of day. It was already blowing 20 knots at dawn and stayed a fairly steady, 15 – 20 most of the morning and afternoon. It increased to 20 – 25 in the evening. A strong wind warning remains in effect with a chance of showers and drizzle predicted for tomorrow. The barometer remained fairly steady all day, just below 1010.
A dive charter operator worked in the Ecological Reserve today with divers and tourists top-side as well. Two whale-watching vessels were observed in the Ecological Reserve. There may have been more as I went ashore for a few hours.
Sealions are starting to haul out on the jetty again. When I arrived in March and for April they were hauling on South Islands. From there, they moved to West Rocks and now juveniles of both species are moving back to south Islands and seem interested in Great Race, especially the jetty.
The elephant seals continue their daily rituals of interacting through fighting, piling up against each other, sleeping, moulting and for most of them, taking at least two ocean swims daily. The tagged female 5086, just starting her moult was here again today as was the young male 5850, who is almost finished his moult.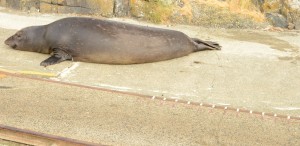 Floyd spent a long time in the water today, tucked in behind the kelp bed in his personal little bay. Like 5850 he spent quite a bit of time draping kelp over his head and playing around with it.
My family has arrived for a visit. Chores are routine and there are lots of hands on deck to help with maintenance and repairs.