In January of 1999, as part of the requirements of the Marine Protected Areas Pilot review process, Garry Fletcher was contracted by Fisheries and Oceans Canada to complete The Race Rocks Ecological Overview. An MS Access metadatabase of all the relevant Race Rocks ecological information to that date was assembled over the next few months. This database and accompanying references and audiovisual materials are now available in the library and biology lab at Lester B. Pearson College.
PART 1: RACE ROCKS ECOLOGICAL OVERVIEW
CONTENTS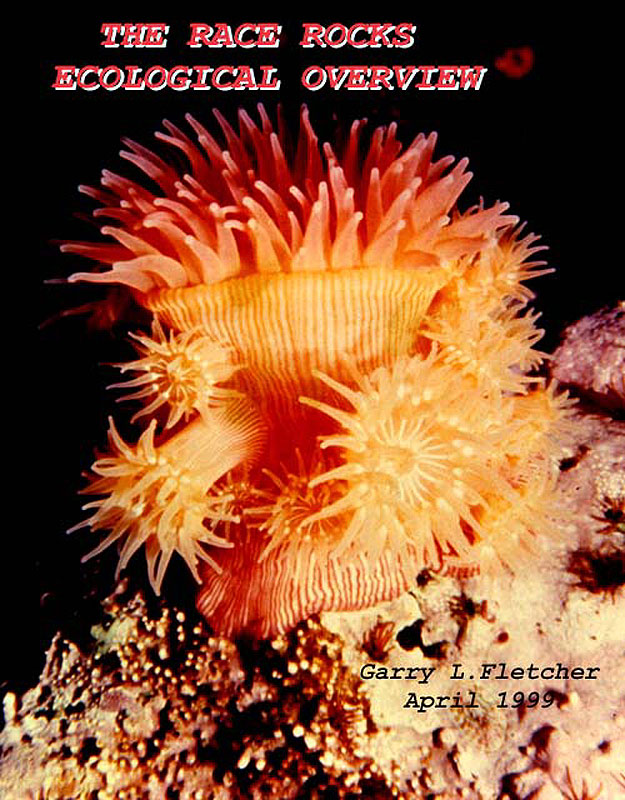 TITLE PAGE 1
PART 1– CONTENTS
PART 2– Abstract-
The Project Identification—Information from the RREO metadatabase:
Project Name: Race Rocks Ecological Overview
Publication Date April 19,1999
Author Garry L. Fletcher
PART 3– AGENDA
PILOT MPA Workshop at  Lester Pearson College
AGENDA APRIL 7, 1999
THE RACE ROCKS
PILOT MPA
ECOSYSTEM OVERVIEW WORKSHOP
LESTER B. PEARSON COLLEGE
8:15 –Depart Pearson College docks for Race Rocks field trip
10:00— Return to Pearson College and go to the library for a quick view of the Race Rocks MPA Collection.
10:10— To the Faculty Common Room for Coffee
10:30 — Introduction to the Pilot MPA process in Max Bell Hall : Brian Smiley
10:45 — Managed Surveys : Jim Galloway, John Harper and Jon Preston
12:00 – Scott Wallace –Benthos Research at Race Rocks
12:30- Lunch served in the Dining Hall
1: 30 PM- The RREO Database presented by Garry Fletcher and Norm Healey
2: 45 – A discussion on the gaps in Science at the Race Rocks Pilot MPA
and the future of the protected area.
4:00 – A view of Underwater towed video- Pam Thuringer of Archipelago Marine
4:30—Workshop ends
Garry Fletcher, April, 1999
PART 4– Summary Report: RREO – PILOT MARINE PROTECTED AREA WORKSHOP –APRIL 7/99
PART 5–SCIENCE AND PLANNING FOR THE IMMEDIATE FUTURE:
Gaps in research Projects for the islands: Some Actions that need to be taken
PART 6—FUTURE DATABASE LINKAGES
PART 7–ECOLOGICAL INTEGRITY FOR RACE ROCKS — DESTAFFING
TITLE PAGE 2

PART 8.-–THE FIRST NATIONS PEOPLE AND RACE ROCKS
PART 9-–EXECUTIVE SUMMARY OF THE DATABASE.
PART 10-–LIST OF WORKSHOP PARTICIPANTS
PART 11--SAMPLE SHORT FORM of RR DATABASE.
PART 12 — RACE ROCKS CONTACTS INCLUDED IN DATABASE
PART 13--SAMPLES OF OTHER SECTIONS OF THE DATABASE
APPENDIX 1 : THE RACE ROCKS ECOLOGICAL RESERVE MANAGEMENT PLAN (June 1988 version)
APPENDIX 2: PERMIT FOR ACTIVITIES IN THE RESERVE
APPENDIX 3: BAMBERTON REPORT OF FIRST NATIONS MARINE RESOURCES.
APPENDIX 4: EXCERPT FROM PROPOSED PARK STRAIT OF JUAN DE FUCA 1976
APPENDIX 5: EXCERPT FROM THE RACE ROCKS NATIONAL MARINE PARK PROPOSAL. 1976