Another female elephant seal, significantly larger than the tagged #6375, has visited twice this week. It is not tagged. The tagged female has also stayed around. Yesterday, she was resting in the shallow water and blocking the boat ramp as I was returning from the mainland in the Whaler. I left the boat tied up so not to disturb the seal and returned in an hour. The seal had moved to a very crowded area that many of the sea lions use as their water entrance/exit and was snapping and chasing the sea lions. I assume this was playful behaviour although the elephant seal was quite aggressive.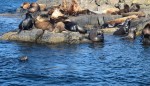 This first image shows the seal waiting at the surface.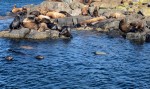 Then the seal approaches the sea lions on its back, provoking them.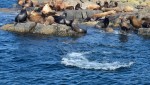 And with a splash, the chase ensues!
A new project on-the-go is a daily count of the number of fishing boats. The Department of Fisheries and Oceans are wanting to monitor the impact of sport fishing in the area. We survey an area from Beechey Head to Albert Head. On some days, there more than 100 sport fishermen in the area.