As predicted, the west-southwest winds continued today with velocities of 15 – 20 knots. The first half of the day was cloudy and fog threatened but the sun eventually prevailed. Because of the late start, accumulated daily solar radiation was only half of yesterday's value.
The barometer hovered between 1013 and 1024 hPa, rising in the morning and falling again, in the afternoon. The forecast is for more of the same with the addition of a 30% chance of showers tomorrow.
There were at least 15 visits to the Ecological Reserve by whale watching boats today and probably more as I wasn't looking every second. Two sports fishing boats sped through the Reserve while most of the whale watching boats followed the rules, slowing on approach and in Reserve, steering well clear of marine mammals, using the middle of Middle Channel, and drifting with the current, or at least going with it.
The reason for all of the whale watching activity was of course biological activity in the area. Race Rocks and environs was a marine mammal hotspot today with at least seven species. At one point there was a Minke Whale very close to the Ecological Reserve boundary just to the east of Great Race and at the same time a large, adult Humpback could be seen ~ 1 nm south of Rosedale Reef travelling east. Once when I looked out at Humpback, it had six vessels pacing it.
Next on the horizon, there were two groups of Killer Whales, both apparently Biggs or Transient (aka mammal eating) Killer Whales. One group appeared to be made up of ~ 3 adult males and the other group looked like females, calves and one smaller bull. The last mentioned group shot out on the ebb tide to the west through Race Passage with a trail of whale watching boats trying to keep up.
The garden gnomes are busy flattening new parts of the lawn that have not had the treatment yet.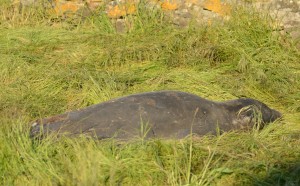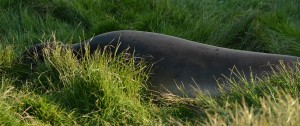 There were no visitors today and chores were routine.