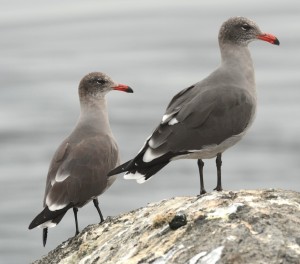 Heermann's Gulls , (Larus heermanni) start turning up at Race Rocks in July.  On July 6 of this year a record number , 574 Heermann's gulls were observed. This  was a notable increase from the 21 recorded a few days earlier The winter plumage is quite dark compared to the summer breeding plumage. They migrate here up from the breeding grounds in Mexico.
This flock of Heermann's Gulls was observed from the tower in early September , 2005. There are approximately 100 gulls but because of the dark color are difficult to see. Look for the black and white tails on a brown body. (GF. photo)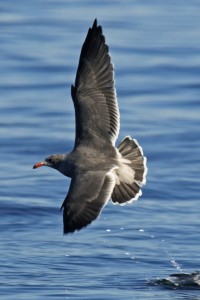 Ryan Murphy took this photo in 2010 showing features of the flight feathers.
On 574 Heermann's gulls today which is a notable increase from the 21 recorded on Friday.
| | |
| --- | --- |
| Domain | Eukarya |
| Kingdom | Animalia |
| Phylum | Chordata |
| Sub-Phylum | Vertebrata |
| Class | Aves |
| Order | Charadriiformes |
| Family | Laridae |
| Genus | Larus |
| Species | heermanni |
| Common Name: | Heermann's Gull, |
See other posts on this website tagged with Heermann's Gull