It was another glorious day at Race Rocks and the trend is continuing. The barometer rose slowly until late afternoon and then levelled off and dropped a bit. The forecast is for outflow easterlies that are so good at keeping the fog at bay.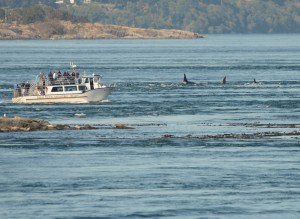 There was a flurry of whale watching activity today as Southern Resident Killer Whales went past Race Rocks going east with the tide. After the main pod had passed, there were 15 whale watching boats in the reserve and I noted a total of 32 over the day.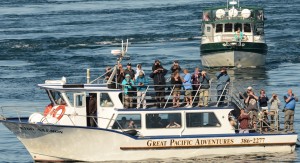 I saw two Harbour Porpoise (Phocoena phocoena) feeding in the reserve. They are such smooth, quiet, little divers. They seemed to be feeding on some sort of forage fish that were flipping at the surface. Very tidy and well behaved compared to the sea lions.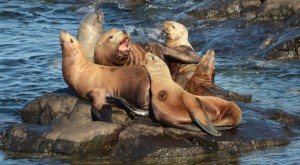 Some of the choice spots for hauling out are quite crowded now and there is a lot of jockeying for position in the California Sea Lion mosh pit where it is not unusual to see animals running across others to find a comfy sleeping spot. They stack in like cord-wood and must keep each other warm.
Here are a few shots of the California Sea Lion with the orange tags (no numbers) that has been ring-necked but seems to be healthy and vigorous. I didn't find the ring-necked Steller's today.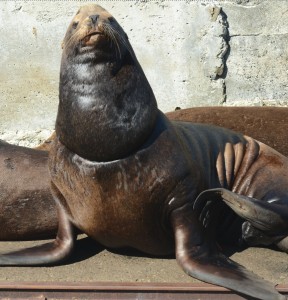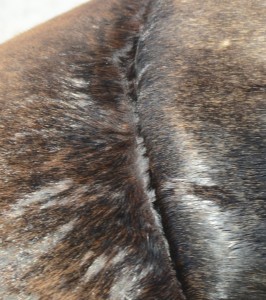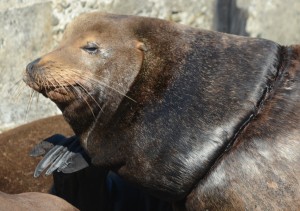 Alex Fletcher solved my bird mystery: the mystery birds are Killdeer that arrive just after dark each night. Alex has heard them in the winter too. They must roost on the island and then leave for the day, as I have not seen them in daylight yet.
I finished the fence today, did more cleaning and made fresh water with the desalinator. By the time I went to turn off the generator the Sea Lions were laying on my fence. Hmmm, that is not not very effective.