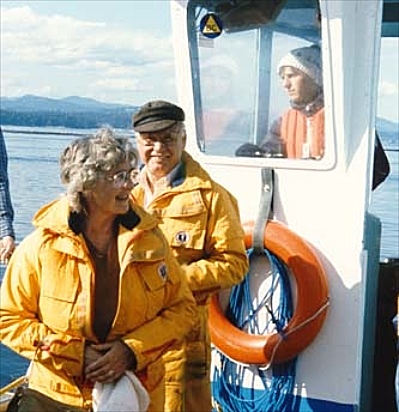 After a short interval after the departure of the Anderson's in 1982, when Race Rocks lightstation  was covered by relief keepers, Joan and Charles Redhead  moved to the island and Charles took over as the Head Keeper at Race Rocks. They served more than the station during their tenure; they served muffins! Several generations of Pearson College students the world over still remember hot chocolate and muffins in their kitchen, after a cold scuba dive. Charles and Joan Redhead continued the strong interest in protecting the ecology of Race Rocks.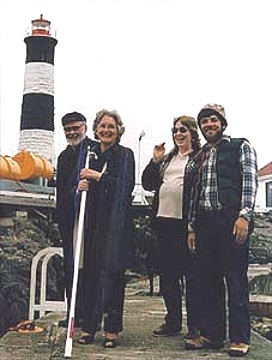 For a few years before retirement, they shared the island with the assistant lightkeepers Warren and Elaine Kennedy. All four keepers often turned out to greet the students as they came ashore. The keepers also often shared the island and boathouse slipway with stray elephant seals or sea lions that strayed from the large herds that hauled out on the outer rocks during the winter months. In retirement in Vancouver and then Victoria, Charles and Joan remained in contact with the college. It was with sadness that we learned of the death of Charles in the spring of 1996. The students of the year 11 and 12 reunion have remembered Charles with a walnut tree planted in his honour on the Pearson College campus in June of 1996.
In 2012, we received he news that Joan Redhead had also passed away. Pearson College had now lost two devoted supporters.
From TheVictoria Times-Colonist,  May 11, 2012:
REDHEAD, Joan Elizabeth April 28, 1927 April 30, 2012
Joan Redhead (nee Wilson) died suddenly in Victoria on Monday, April 30, 2012. Joan was predeceased by her husband Charles; her parents, Thomas and Doris Wilson (nee Shaw) and her brothers, Derrick and Bryan. She is survived by her sons, Alec and Peter (Sheila); her beloved grandchildren, Emily and Thomas as well as her sisters, Doreen Cartwright and Mary Blades and her brother John Wilson. Joan was born and raised at Bridlington, Yorkshire where she married her childhood sweetheart, Charles, in 1947. Joan and Charles emigrated to Vancouver with their young boys in 1957, retiring to Victoria in 1994. An active volunteer, compassionate and principled, Joan was devoted to her family and to her friends. We are left with our loving memories.
Return to the List of Lightkeepers File