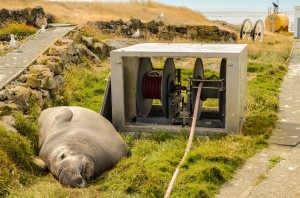 This past week, we delivered over 4000L of diesel to the island. Even though Race Rocks tries to source its energy from more sustainable practices like our solar panels, often they're not sufficient to completely power the island. During the dark cloudy days we see so often in winter we rely on our diesel powered generator. Erik Shauff collects thousands of litres of diesel per load in a large metal container from Pedder Bay Marina and delivers it to the reserve by boat. Then we use an electric pump and hose system to transfer the diesel across the island into its holding tank. Pictured above is Misery supervising the process. Erik surveys the yellow diesel tank in the background.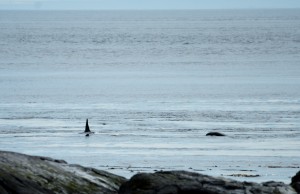 We also had a whale sighting in the past week. A pod of orcas (with at least one calf) passed through the south side of the reserve on Friday. As always, orcas attract alot of boat traffic. I noticed a cluster of whale watching vessels before the orcas. When the pod moved towards the reserve the whale watchers didn't follow but instead kept their distance and motored ahead to the next point they calculated the pod to be.
One private boat-owner, however, chased the whales right through the reserve.
On one of the trips for diesel, Erik also brought his dive gear to clean the Underwater Camera 2.