There was a large sea running today with at least a one-meter swell surging up the ramp and over the smaller islets. This was in turn reflected by a dramatic sky constantly changing with everything from downpours to brilliant sunshine, rainbows and some rumbling thunder thrown in for good measure. The barometer tentatively climbed to above 1010h Pa and the forecast is calling for continuing drama tomorrow including lightning and a strong wind warning.
There were 18 visits by commercial whale watchers noted, within the Ecological Reserve . Again it was a pleasure watching the respectful operators move slowly with the currents in the Ecological Reserve, keeping a sharp lookout for the hundreds of animals in the water and giving their guests the best views of the wildlife. Most (94%) of the skippers were respectful of the guidelines that the industry itself came up with for sustainable use of the Ecological Reserve.  I took photos of the one that wasn't.
Other than the usual cast of characters, Great Race was treated to a visit by a very swift Peregrine Falcon, which was hunting young gulls. I didn't see it take one but found another of the "turtleneck" mystery mortalities first thing this morning. Still betting on the River Otters for that modus operandi.
I photographed a shorebird that I wasn't sure of the identification today. I posted a photo here and one on twitter and received a tweet almost immediately. Dick Cannings of Bird Studies Canada knew right away that this is a Ruddy Turnstone. I have only seen them from below (in the boat), in breeding plumage, in mixed flocks with Black Turnstones at Baeria Rocks Ecological Reserve and never in the vegetation, from above here at Race Rocks. That is my excuse and I'm sticking to it. Of course it is a Ruddy Turnstone, what else could it be?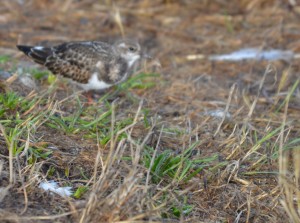 No visitors today and chores were either routine or fighting entropy.