California Sea Lion: 14
Human Interaction
At ~1935hrs PDT a vessel was spotted fishing within the limits of the RCA in close proximity to the E. side of Rosedale Reef. The vessel eventually made its way out.
At 1245hrs PDT a vessel was spotted speeding into the Reserve from the E side. The station vessel was already on the water and advised the mariners to slow down.
At least 4 OBMG vessels were spotted this afternoon approaching close to mammals on Middle Rock and on Great Race and proceeding at a speed in excess of 7 knots.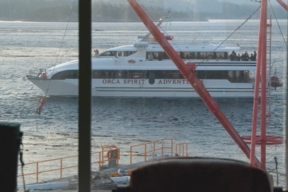 Ocean Magic II produced a very large wake this afternoon while transiting the Middle-North Race channel against the current. This is the largest eco-tour vessel seen so far within the reserve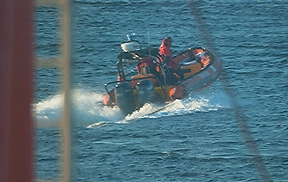 At 1945hrs PDT a CCG or CCGA rescue RHIB transited the South Passage E to W, then the main passage W to E. Once near the jetty end of the passage, the vessel throttled up and proceeded to power through the Middle-North Race Passage at high speed before exiting into Race Passage heading westbound.
At 2010hrs PDT a floatplane flew exceptionally low over the N side of the Reserve, E to W. No license/company name obtained.
Overall, yesterday and today were very traffic-heavy days due to whales in the area. At times 8 or more boats were in the Reserve at any single time.
Two techs arrived from Environment Canada to finish servicing the EC weather equipment at the top of the tower.
There were 2 visitors to the island today.
Vessels:
| | | |
| --- | --- | --- |
| Pleasure: 7 | Eco-Tour: 30 | Total: 37 |