See Ryan Murphy's harlequin images on Flickr
"'tis the season for Harlequin ducks here at Race Rocks. The particularly fine weather has emboldened the main group that spends most of its time on the east side of Great Race Island and they have been spending time around the jetty and on the west side of the island as well. Group size ranges from a single pair to more than twenty, with thirty or more individuals in the reserve the past couple of days." Ryan Murphy-Ecoguardian Race Rocks.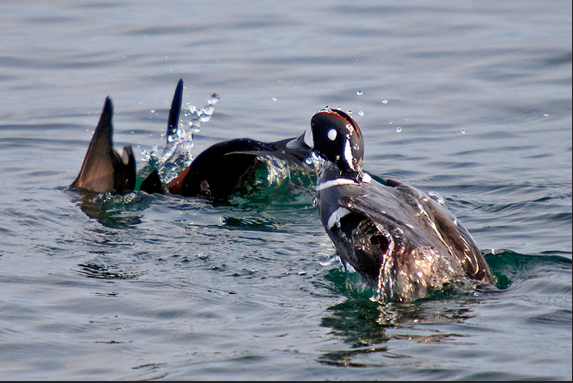 "Harlequin Up/Down
Not sure when I'll capture a moment like this again. Usually Harlequin ducks dive together or in close succession, but here one bird is popping to the surface as another one begins its dive." Ryan Murphy
Ryan also took this photo today for a Northern sealion census: click several times for a very large image where individuals can be examined.