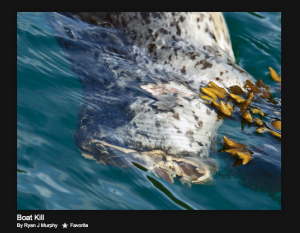 This fall there seems to be an unusual amount of injuries showing up on the marine mammals: Ryan recorded some of them with images on his Flickr site:
See this link to the log pages with injured marine mammals.
This dead harbour seal pup was the first of two found in a single week in the waters near Race Rocks. A boat traveling at great speed decapitated this animal and left another slice on the neck in the tell-tale pattern of propeller wounds. Remember Buster?:
He has not been seen in weeks.