I am making final preparations for my departure tomorrow and Mike's return. The past two months have been very enjoyable being surrounded by the wildlife here and beautiful landscape.
The sea lions seem to be occupying every side of the island except the jetty. The right image is the rocky shore to the East of the house, the centre is the south side of the island, and on the right is West Race Rocks.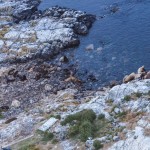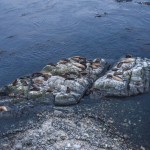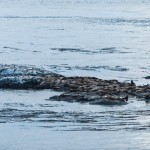 We now have 5 elephant seals on the island, although no big males have returned.
The past two days have been overcast and there was a light drizzle today. Sure makes for a beautiful sunset, though!