(One version:) Apparently his real name was Mercer but because he deserted the British Navy he added Eastwood to his name.   He came to the USA to go railroading then went to Canada. He was born in 1864 in Yorkshire and died 2 Mar 1943 age 81 – They had 14 kids and lived at Race Rocks from 1891 until they retired in 1919. From Ancestry.ca: " According to Annie Barbara Peterson, Granddaughter to Frederick, in her letters to me, she stated that: "My grandfather was Frederick Mercer. He deserted the British Navy and went railroading in the USA. He was forced to change his name so he added "Eastwood" becoming F.M.Eastwood. Hard times, no job brought him to Vancouver Island, British Columbia Canada. " UPDATE: In an e-mail of Dec. 31, 2011 from Kev…. Several other ancestry sites have Frederick Mercer Eastwood Born in London, England on 1861 to Joseph Eastwood and Annie Mercer. They have the same children and death date as Annie Peterson, She might be mistaken in thinking her grandfather was a deserter. (Mercer was her Great Grandmother's maiden name.) ps Annie Biggs, Frederick Mercer Eastwood's wife, was a distant cousin of mine, I have her tree and therefore Annie Peterson's tree, back to Richard Biggs (from whom I'm also descended) b: Abt 1685 in Mells Somerset, England. Death: 1710 in Mells Somerset, Burial: 13 Oct 1710 Mells Somerset . Regards Kev
Several references to the Eastwood family are available in the records of the Daily Colonist from the period of their stay at Race Rocks. The following records among many others on Race Rocks can be accessed here.
Lightkeeper Eastwood charged with leaving the station and employing Japanese(!!) Sept. 19 1900
Letter from Col.Prior re: Eastwood inquiry… Note racist overtones common then .
Lightkeeper F. Eastwood saw drowning by the overturning of a Columbia River boat loaded — Hesquiot Indian tells another story—-No one drowned!-
Sept 18 1909Cliff Eastwood (son of Frederick Eastwood born on Race Rocks) and Peggy Cleave family: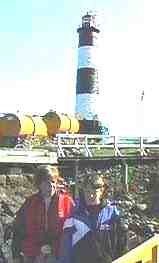 In about 1998, when students from one of the schools from Sooke were visiting as part of the Coastwatch Program, a grade 7 student and his mother identified themselves as being descendants of the Eastwoods from Race Rocks. In 2012, Geri Stevenson wrote to us identifying those in the picture –Geri writes:
"I am writing in regards to the picture you asked about who was a member of the Eastwood Family , she is my Aunt Debbie and her son Kyle – there are many of us around.
 My Great Grandfather was  Frederick Eastwood, his son Cliff Eastwood was one of the children born on the rock. He and many others :)
Cliff Eastwood and his wife Peggy McCleave had 5 children:
  Viola (Jim) (our Mother – Corinne, Bill, Brenda, Debbie, Geri & David Stevenson)

Geri (Jim) (our Aunt her children Jaime, Geordie, Torrie & Marty Robertson)

Cliff (Joan) daughter Karen –

Vickie (Douglas) no children

Debbie (Mike their children Lindsey and * Kyle the boy in the photo …

…

There are many generations as most of these siblings have children and grandchildren.

Geri continues: "I wanted to send you a picture of Great Grampa Eastwood and Grandma Eastwood so I"ve attached it for you, (see picture above,).. also attached is this one of Auntie Geri, Cliff & Viola (mom) when they were young ."Many thanks for this e-mail and pictures from Geri Stevenson.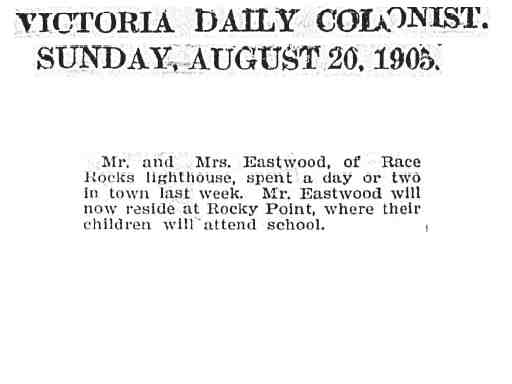 Note: In the Census of 1891 when they were at Race Rocks Frederick's birthday is listed as Mar 2 1863, (age 39) emigrated from England 1881.  His wife Annie was born in BC, Mar.10 1872… ( 29 years old)  children Joseph (10 ) John ( 9)  Edward ( 7) Elizabeth ( 5) Roy ( 4) Rachel ( 2) Ellen(1/4 ).
Also listed for the same record (26) are two "Japanese fishermen" Shot ( sp?) age 20 emigrated 1899 and Likhu (sp?) age 15. emigrated 1900.. their employment is listed as servant….. (see the two Daily Colonist archives above relating to the Japanese employees.)
From:Lighthouse Friends:
Frederick Eastwood was appointed keeper at Race Rocks in 1891 and would serve longer than any other, a total of nearly twenty-eight years. Keeper Eastwood had trouble finding reliable assistants given the meager income they were provided. One night his wife found an assistant sleeping under a boiler, and just a few days later Keeper Eastwood visited the engine room at night only to find the post deserted. The missing assistant was later found fast asleep in a loft above the boathouse. After this, Eastwood started to hire Japanese assistants, as they proved more reliable and diligent than white men. This did not set well with some locals, and Keeper Eastwood was soon accused of absenting himself from his post and employing Japanese.
Several neighbours and even former keeper Thomas Argyle, himself familiar with trumped up charges, testified that Eastwood was a careful keeper and was only absent when retrieving mail or picking up supplies. The commission looking into the matter quickly concluded that "the evidence did not substantiate the charges" and adjourned.
Return to the Index  of Race Rocks Lightkeepers