Weather
Visibility: 10 miles, later 15
Wind: 0-5 knots West, later 5-10 knots NE
Sky: overcast, mist in the morning and evening
Water: calm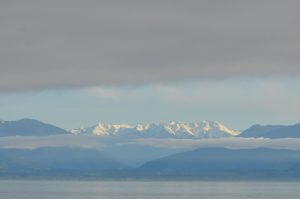 Ecological
The ten elephant seals were joined by an eleventh. He is very big!
Maintenance
Did a bunch of goose work.
Sprayed 30 second spray on one side of the main house and then pressure washed it. Not very effective against lichen compared to algae.
Boats
Several eco-tours came by.
Noticed the HMCS Regina in the mouth of Pedder Bay.