On Dec 8 I counted 15 elephant seals in the reserve: 3 female and 2 male elephant seals hauled out on Great Race as well as 10  female elephant seals on West Rock.  I think this is the most i have ever counter here.
Unfortunately one of the females on Great Race is injured in her mouth or throat and has been bleeding quite a lot.  We have notified the Department of Fisheries and Oceans about her.  There was an elephant seal in the spring that had a mouth injury as well.
The second male elephant seal is brave  to venture onto great race while Misery, Alpha male, is about.  This same elephant seal was here earlier this year, Mike posted about "chunk" at the end of May: http://www.racerocks.ca/2012/05/31/end-of-may/
And i think that it is the same one that had been around earlier that we were calling "Zeke". I reported him injured here by Misery in February: http://www.racerocks.ca/2012/02/09/zeke-is-wounded/
The scars look similar, including a scar to his right eyelid.  Misery does not seem to be very bothered by the other male being on the main island.  The younger male has kept his distance though.
There has been a Peregrine hunting in the reserve the past three days, this picture taken Dec 8.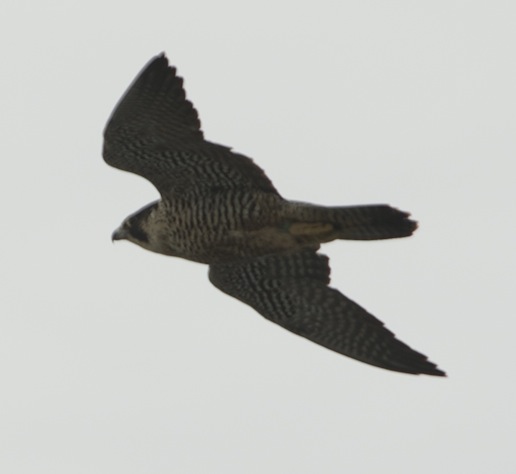 One tagged Pelican Dec 8 but not able to make out the ID #.