Weather
Visibility: 15 miles
Wind: 25-30 knots North East
In the afternoon, 20-25 knots West
In the evening, 10-15 knots West
Sky: mostly overcast and a few drops of rain.
Water: 1′ chop
A nice view of the snow on Hurricane Ridge in the morning.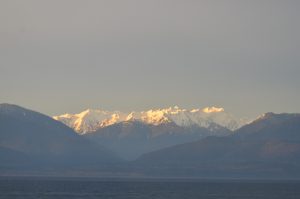 Ecological
Four elephant seals on Great Race today.
The weaner slept all day beside the main house.
Maintenance
On this Earth Day, I would like to take the time to thank (however corny it made sound) the framework of the Ecological Reserve, which helps to maintain the wild beauty of these spectacular islands!
Boats
One fishing boat, and a couple of eco-tours came by today.