Thursday was a howler. The wind started early and blew ferociously all day. Although it developed into a classic westerly, it actually started out from the west-northwest, which is closer to the direction running down the outside coast of Vancouver Island (NW). Most of the day, it was westerly from 30 – 40 knots and late in the afternoon there gusts over 40 knots. The fog that formed early on the Port Angeles side of the Strait was blown away early and the sky stayed clear until just after sunset when clouds became visible in the west. The barometer has been rising since Wednesday and the forecast is for continued gale warnings and mix of sun and cloud.
It really calmed down on Friday. The westerlies with a touch of southwest, continued but at moderate speeds of 15 -25 knots. Although there were clouds to the west early in the morning, they evaporated quickly and it was full on sunshine all day. The barometer is dropping from a high of 1020 hPa and the forecast is for strong winds and mostly clear skies.
There were no whale-watching boats, or sport fishers on Thursday, as the weather and sea conditions were just too wild. Friday was a totally different story with 16 whale-watching vessels observed, visiting the Ecological Reserve. Some vessels made multiple visits.
There was a lot of whale activity within and around the Ecological Reserve. Both a Minke Whale and a large Humpback were feeding just to the southeast and south respectively and three different pods of Killer Whales moved through the area in the afternoon and evening, including small group of Bigg's Killer Whales (Transients), two pods of southern residents ( J-pod and L-pod according to the whale-watching boats). One of the SRKW pods came right into the Reserve within fifty meters of South Rock, heading east. There were two large adult males, one small calf and about 15 individuals all together. Another ~ 20 individuals were travelling in the same direction about one mile to south, at the same time. It appeared as though the two groups met up and mingled to the east of Race Rocks. Time for the sockeye to be running.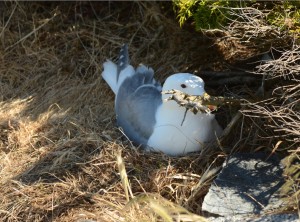 Other ecological happenings are progressing as has been reported on for the past few weeks. I started a Glaucous-winged Gull nest survey Thursday and finished surveying about one third of the island. On Friday the female Northern Elephant Seal # 5866's tags were noted. Chunk and Floyd have been peacefully moulting, sleeping and travelling up and down the ramp for several swims a day (more like lolly-gagging in the water).
Thursdays are animal census day. It is worth noting that the winter resident bird species such as Black Turnstone, Harlequin Duck and many species of gulls that nest elsewhere are gone now and so are the transitory migrant shorebirds and other migrants that stop off briefly or for a while. The sealions are at their lowest number which is expected since they too should be on or heading towards their breeding grounds. Census results follow.
Northern Elephant Seals 10 (including 5 on Great Race)
Harbour Seals 218
California Sealions 5
Northern or Stellers Sealions 2
River Otter 1
Sea Otter 1
Canada Geese 24 (= 10 goslings + 14 adults) (many appear to have swum away)
Pelagic Cormorants 3
Double Crested Cormorants 5
Bald Eagles 2 (1 adult, 1 sub-adult)
Black Oystercatchers 10 (5 nesting pairs all incubating)
Kildeer 2
Pigeon Guillemots 110
Caspian Terns 2
Glaucous-winged Gulls total 424 (402 adults in nesting areas; 22 sub-adults in roosting/resting area). Most gulls are incubating now, although some are still getting started.
There were no visitors on Thursday and two visitors Friday, who did a retreat in the science house. They came and went in Second Nature with Chris.
Chores and maintenance were routine today and I am glad to report that I am able to wash windows again.