California Sea Lioncount:  87. Most of the California sea lions cleared out this morning before I could get a proper count. LGL continues to monitor the DND blasting. Brand c867 is near the jetty this morning.
LGL continues their monitoring today.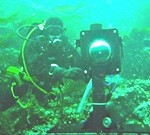 Erik and Evgeny arrived to work on the underwater camera. I am very excited for this to be online. In just a few seconds of watching I've seen 4 species of fish and a couple sea lions swim by. There were 4 visitors to the island today.