There was a freshly killed seagull on the NE side of the island this morning. Soon after I had inspected it, a juvenile Bald Eagle came in to continue to deplume and consume it. The Eagle eventually flew off with the carcass to finish it off on Middle Rocks.
Misery was back on Great Race this morning, he has been behind the boat house all day.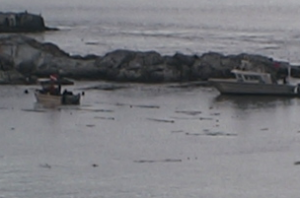 For most of the afternoon there two dive boats near Middle Rocks.
I worked on a de-clogging a stubborn sink drain in the bathroom of the main house this morning.
A North wind peaked around 20 knots this morning and dropped to less than 5 knots for most of the rest of the day.