The west winds blew all night and through the day today, attempting in vane to air-condition an interior that is heating up. The fog came and went and the wind continued throughout, generally blowing 25 to 35 but peaking in the early evening with gusts up to 43 knots. Winds dropped to 25 – 30 knots after the sun set and the forecast has it slowing to 15 late overnight and then rising tomorrow to gale force. The outlook is for clear skies and I am assuming fog.
There was only one whale watching vessel observed in the Ecological Reserve today and no other vessels were spotted in reserve.
There were eight large explosions today that shook the house and the red flags flew to warn people off and away from Rocky Point.
Most of the Northern Elephant Seals that were moulting here have gone in the week that I was away. The two big males Floyd and Chunk are still here and are really just starting to moult and there are a handful of smaller individuals coming and going.
Floyd is a little ahead of Chunk in the moulting department but Chunk prevails in matters of size. I thought Floyd was big, measureing 3.23meters (127 inches) from the tip of his nose to the end of his tail. Chunk has decidedly more girth and his length measures 3.61 meters (142 inches).
Many of the Glaucous-winged gulls are sitting on eggs now, as mentioned by Christine. Most nests have either two or three eggs.
The beach pea  is blooming in the boulder scree where the Pigeon Guillemots like to nest on the north side of Great Race. As I am still vexed by vetch I will get back about the identification.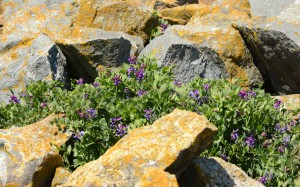 It was a bit scary getting out to Race Rocks last night. Alex made the rough, wet and salty trip out much less of a religious experience. There were no visitors other than Alex and chores were routine.