Weather
Visibility: 15+ miles
Wind: 0-5 knots North, later 10-15 West
Sky: clear
Water: calm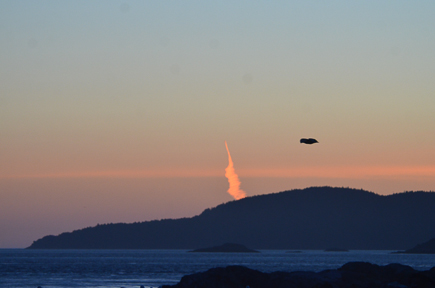 Ecological
15 elephant seals on Great Race today.
For about an hour either side of noon, I was blocked out of the house by one elephant seal who insisted on sleeping against the door.
The two deck entrance doors to the house were both locked, and seem to require keys no longer on the main key ring.
One of the female elephant seals has a tag on her flipper: 980S (?)
Update 13 May 2016: the flipper tag was upside down. It actually says: 5086
A new flower has opened today, the beautiful red Gladiolus imbricatus.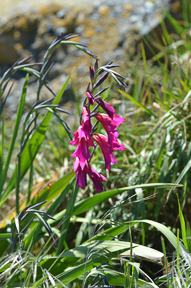 Maintenance
Finished cleaning the outside of all the windows of the two dwellings.
Set up the new weed whacker.
Cleaned the solar panels.
A bit of goose work.
Boats
At least 9 eco-tours came into the reserve today.
Didn't get photos of them all, as I was blocked outside for some of them.
One small fishing boat was fishing to the east of Great Race; it looked like it might be just inside the borders of the rockfish conservation area?
Two fishing boats passed through the reserve at speeds that appeared to be too fast.
The first of these created a very large wake near the jetty; unfortunately I wasn't able to get a photo of the peak wake.
Other
Two medium DND blasts today; 9:52 & 10:15~